The Perfect Complement to Your New Home
When value through quality matters more.
Proudly Serving Maryland Residents in Anne Arundel County, Howard County, Baltimore County, Harford County and the Eastern Shore.
Stunning Outdoor Living Spaces in Odenton, MD
Building Decks, Patios, Walkways, Pergolas, Fire Pits and More
Odenton offers incredible amenities for its residents. It's close to Baltimore and Annapolis and provides easy access to several metropolitan areas, yet Odenton is also perfectly situated for people who love to spend time in the great outdoors. The close-by Patuxent Research Refuge offers hiking trails galore, along with fishing and hunting; while Odenton Park provides the perfect setting for activities like soccer, picnicking, and jogging along its ample trails.
What could make life in Odenton even better? Just imagine spending the day out and about in the nature of Odenton, then returning home for an evening warmed by an outside fire pit or fireplace. BlueWater Custom Builders can help to turn that dream into a reality.  
We serve the Two Rivers Development along with other communities in Odenton, MD.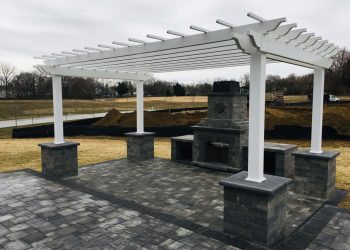 Specialty Services including Fire Pits, Fire Places and Pergolas for Maximum Outdoor Entertainment
Custom Fire Pit or Fire Place Construction
Although countless generations have used indoor fireplaces to stay warm, the invention of central heating has made a fireplace less of a necessity and more of a decorative element. An outdoor fireplace designed by BlueWater Custom Builders combines form and function, making it a beautiful addition to an outdoor space that's perfect for entertaining, no matter what the weather may be like.
As experts in fireplace and fire pit installation in Odenton, we will guide you through the design process, helping you to decide whether a free-standing fireplace or a round fire pit fits your needs best. Rest assured that the fire feature we create will be exquisitely constructed and safe, while also being a stylish addition that will complement your home perfectly.
Our promise to you is that we will build the appropriate foundation for your fireplace or fire pit, using only the highest quality building materials that are certified to industry standards. We can build wood- or gas-fueled fires features, depending on what you prefer and what works best for your home, too.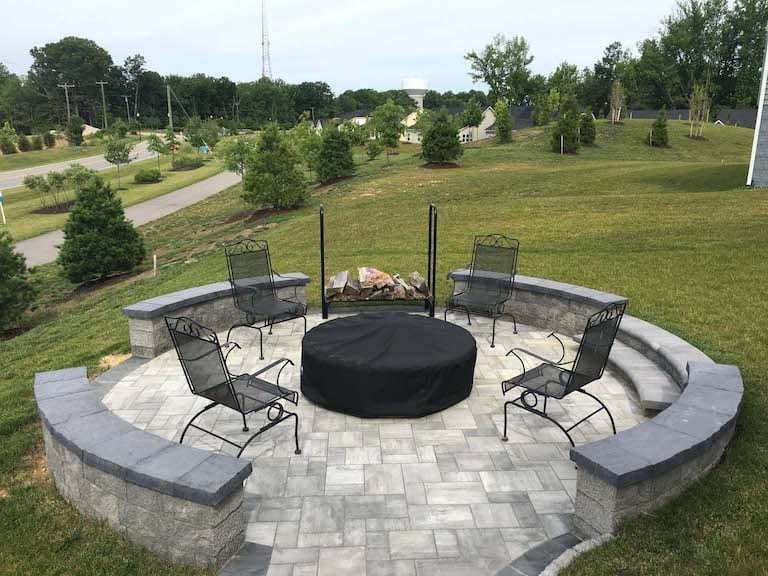 Why You Should Choose Bluewater Custom Builders
Many of our fireplace and fire pit designs include a beautifully crafted pergola to provide shade and protection from the elements. Like our fire features, our pergolas are created with form and function in mind.
BlueWater Custom Builders can help you to consider the benefits of a pergola, while offering guidance about the different building materials that can be used for construction. While many homeowners choose vinyl — which is sturdy and requires little maintenance — other clients prefer the classical look of a wooden pergola.
Either way, a pergola can enhance any backyard space, complement your home, provide a perfect space for entertaining on a crisp fall evening, and more. It can also give your backyard much-needed shade on a warm summer afternoon.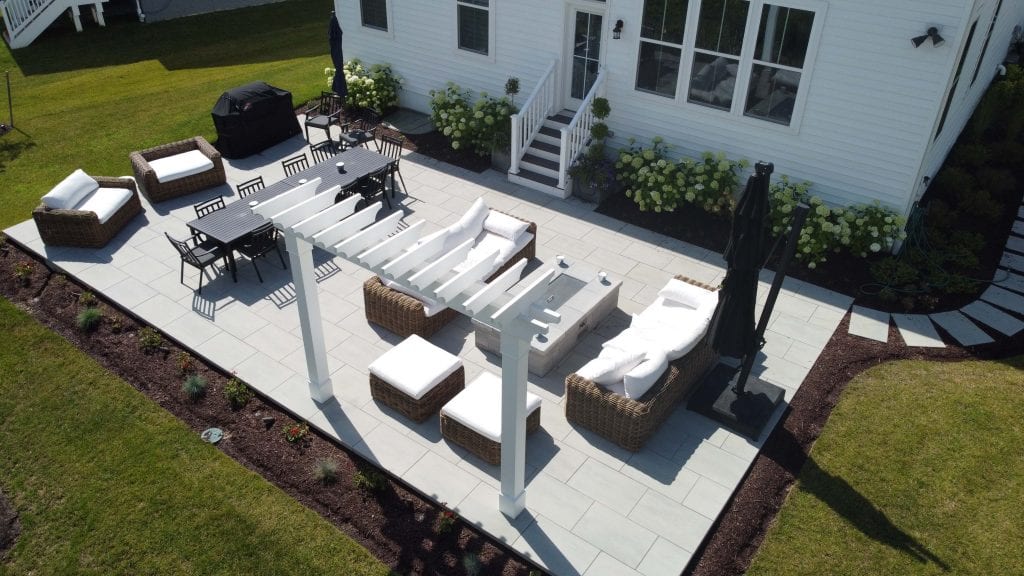 5 STAR REVIEWS FROM OUR CLIENTS
BlueWater built us a deck and patio almost one year ago. Brandon listened to what I wanted while making his design and captured my thoughts very well. The final product was even better than what I was imagining. The deck was built above and beyond our county code and I fell safe knowing it is very sturdy and will last a long time. Any small items that have come up, BlueWater is responsive and addresses the items with a professional manner. After the build, they did an excellent job cleaning up.
Morgan M.
Bluewater did an excellent job installing my patio. The initial consultation with Brendan was great. He was honest and not pushy. The installation occurred ahead of schedule, and the team was quick and professional. Minimal damage to the yard, which was impressive. The final patio looks great. Everyone says it looks like a patio form the magazines. Highly recommend Blue water. You wont be disappointed.
Zach J.
The BlueWater team was fantastic! From the initial consult to final product of deck and patio, they provided top notch professional service. Brendan was very attentive throughout the entire process and post installation. We are very happy with our deck and patio. The deck and patio crew were friendly, professional and did a fantastic job. We highly recommend Blue Water for your deck and patio needs! Wish they did internal project work (they are that good).
Tiffany B.
Why Choose Us for Your Next Project
Whether you want a fireplace, fire pit, or pergola, a deck or patio, BlueWater Custom Builders is happy to help you to maximize your outdoor space. Whether you're looking to update your home in the Two Rivers neighborhood or want to create a restful relaxation elsewhere in Odenton, we're here to bring your visions to life.
We've earend a 5-star reputation on Google in addtion to 6 consecutive Houzz Awards for our work. The reason is not just for our workmanship, but for the excellent experience we deliver from design to completion.
Give us a call today for a consultation!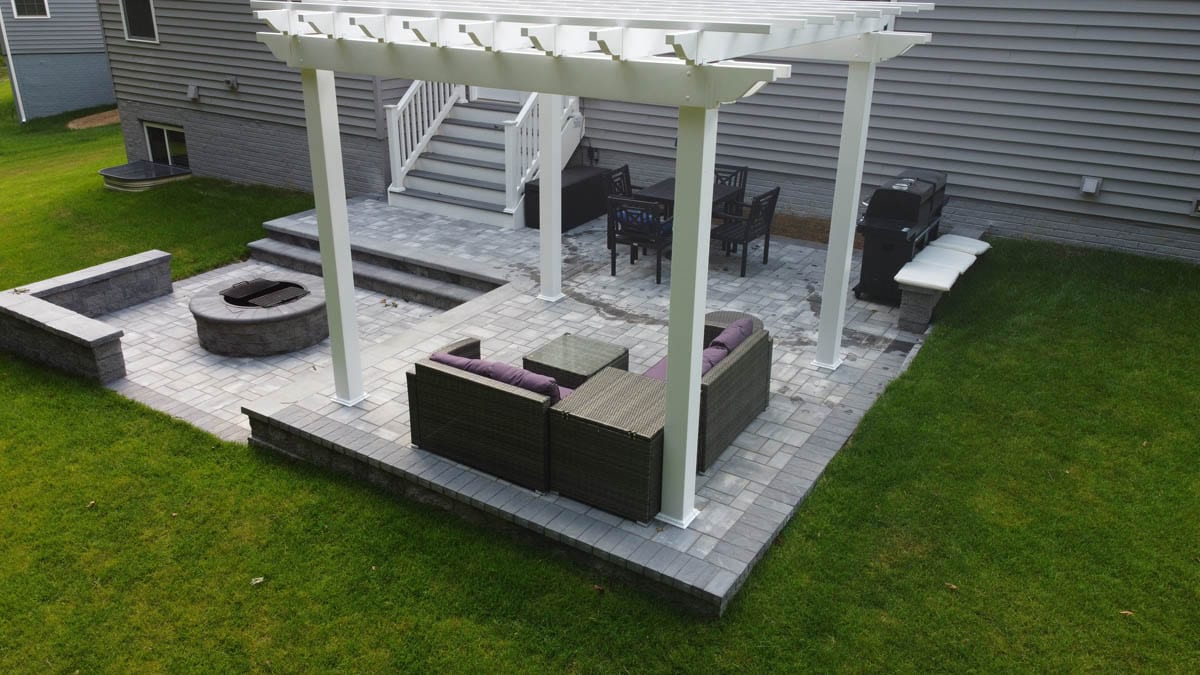 COMPLETE YOUR HOME WITH THE PERFECT OUTDOOR LIVING AREA
Contact us to request an estimate.